Radio Frequency Identification is a passive Electronic Chipset That can exchange data. RFID chips are used in many applications for tires it comprises of three main components. Hardware (tag), SGTIN96 (unique id) and Cloud Database. Information Access happens through API (Application Program Interface). A third-party tool is used to transfer information securely through SSL.
Information is being gathered and transferred electronically, RFID likewise dodges record blunders, duplication of information, and "missed things" when used to gather information on huge quantities of things all the while.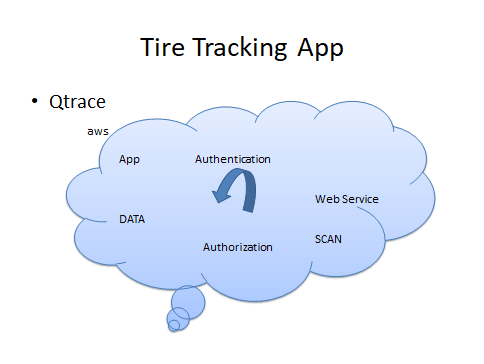 How Automation Achieved?
The utilization of cloud-based frameworks permits everybody in the association to see forward-thinking information on the whereabouts or status of things.
 We at OTEL TECH use RFID Reader (android portable device) , which can scan the tire capture SGTIN96 unique ID to our APP and data is sent for authentication to the cloud database and if the data present in the database it respond back with the token. Based on the token generated, data send to the authorized server.
Benefits of RFID Tire Tracking in your business.
Increment perceivability of resources
Can be utilized in different ways
Decrease worker's responsibility
Give promptly accessible data
Work on functional cycles
Improve wellbeing and security
Forestall burglary and lost things
Diminish generally speaking expenses
ROI benefits as follows.
At OTELTECH we provide supreme importance to integrity and inviolability in logistic activities by facilitating Transit data to the client. By implementing OTELTECH RFID Tire Tracking System in tires of logistics vehicles we can capture data at the place of manufacturer and delivery point.
On the production front, OTELTECH RFID Tire Tracking System helps to align and differentiate tires. Helps to fix the rims of the tire on the proper side, so human error is avoided. Helps to keep track of stocks and the quality of production. RFID and TMPS data help to solve customer complaints.
Conclusion
Automation is the future era. RFID Technology is the premiere in Automation. OTELTECTH is one of the finest companies which provide RFID services in Asia, Africa, the US, Canada, and the Middle East.
Implement RFID to your Business to add value to the business.
Our other services: Asset Tracking and Laundry Tracking